Our Rooms
The "sharp and knife-edge relationship" between being in nature and comfort constitutes the philosophy of our hotel. It is our fine line not to move away from nature while promising comfort, not to dive into comfort and damage what is natural, while inviting nature. In this sense, our rooms have been designed in the form of single detached dwellings with their own private terrace-like balconies in line with our principle to stay away from standard hotel rooms.
The size of the beds that could not even be included in the logic of a five-star hotel was our well-considered decision. The bathrooms, where hygiene was observed but the luxury was just in the right dose, were again our conscious choice.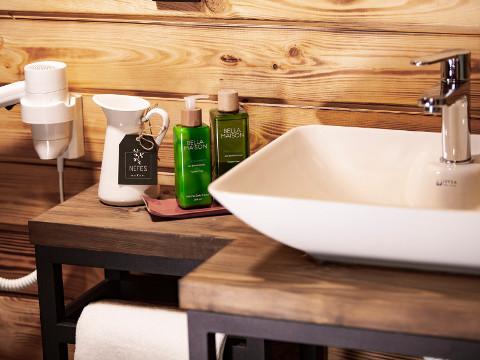 Different perspectives were sought in order to open a separate view from the terrace of each dwelling and to watch the swallows in the evening. We tried to act by paying regard to our private needs but not leaving behind our debt to nature. In short, nature was the host and we were the visitors at the space. Fine touches have always been our priority rather than the bed linens, towels, poolside loin cloths or highlighting technical features such as hair dryers, air conditioners so it was our desire to share these fine touches with you.